The Friends of Wallisch Homestead are pleased to announce an exhibition game of Old Time Base ball presented by the Hoboken 9 Vintage Base Ball Club.
Saturday Sept 24th at 1:00 PM
The Hoboken Nine Vintage Base Ball Club plays baseball using 19th century rules with 19th century equipment.  The team plays against other vintage teams using the same 19th century rules.  The team is sponsored by the
Hoboken Historical Museum
. To promote the history of the game and show how it was played during its formative years.  The team calls home in the same city where the game itself made a very special beginning. 
Come out and see how base ball is supposed to be played. The Friends of Wallisch are currently working on other entertainment between innings so be sure to visit our website for more details soon.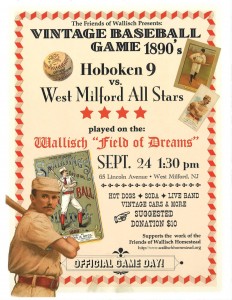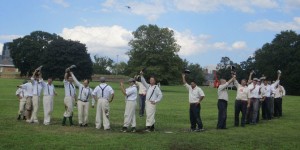 The Friends of Wallisch Homestead, Inc is a 501(c)(3) non-profit organization dedicated to the preservation of the Wallisch Homestead for use by the community for open space, education and recreation.