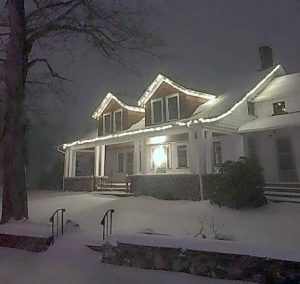 Hi!
The Wallisch Homestead, located at 65 Lincoln Avenue, West Milford, is one of the last remaining properties that reflects Northern New Jersey's agricultural heritage and West Milford's past.
The Homestead is jointly owned by the West Milford Township and the Board of Education. The Friends of Wallisch Homestead is a 501(c)(3) nonprofit group whose mission is to act as stewards in the preservation and adaptive reuse of the Homestead buildings and grounds.
The Friends are working on a master plan for projects that we envision for the Homestead. For 2021, we plan to paint the stone barn's wood exterior (already in progress) and repair the wood doors, reroof and paint the garage (formerly a chicken coop that is used for storage), and repair the doors & windows on the stone creamery. We will also be working on painting and decorating the stone barn's interior. In addition, an Eagle Scout has restored parts of our walking trail.
We are planning the following events in 2021:

Barn Sale of Donated Goods – April 16-18th

Art Show – May 21-23rd



Painting Party June 4th

Corn Hole Tournament August 28th

Music Festival – September 18th

Friends of the Library Book Sale – September 23-26th
And the return of Yoga on Wednesday evenings (outdoors, weather permitting; in the barn, if not) at 7 PM.

Meanwhile, you can enjoy the Wallisch Homestead grounds, which are are open from dawn to dusk. Come walk around to see the buildings & read the storyboards about their history, hike the 3-acre loop trail behind the buildings, enjoy photography, quiet meditation, etc. The grounds are an excellent spot for sky watching with little to no light pollution.

For everyone's health & safety, please remember:
We have a portable toilet by the parking area. However, any public facility is only as clean as the last person who touched it; a good portion of your safety relies on you
We ask that you take any trash with you and pick up after your pets.
Thank you!
Subscribe to our mailing list