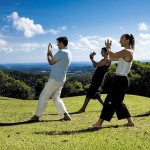 Wallisch Homestead is pleased to announce its participation in "World Tai Chi Day" on Saturday, April 28, 2018.  This global event is held annually on the last Saturday in April in hundreds of countries and over 80 nations.  Friends of Wallisch Homestead will be hosting Shifu Loretta Wollering from Internal Gardens, just one of the wonderful instructors and her students, for a series of free workshops.  These events will take place at 10 AM and will continue until 12 PM.
Tai Chi is a Chinese system of health and wellness, much like yoga, but is considered a martial art.  It is a soft art, with flowing movements, which have been scientifically proven to reduce stress and pain, and induce a quiet state of mind.  The focus is on the slow movements which brings about a state of mental clarity and calm.  If you wish to know more, please click here: http://www.njtaichiclasses.com/how-to-join-our-school/
There is no experience necessary to participate in these workshops.  If you prefer not to participate, please feel free to bring a lawn chair, some lunch and observe.  If you do plan to participate, please wear loose-fitting, comfortable clothing. There is no charge to participate, however, donations are graciously accepted.