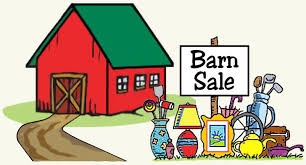 Friends of Wallisch Homestead are excited to announce the return of the annual BARN SALE!!! The sale of donated goods begins on Friday, April 16th from 6-9PM, continues through Saturday, April 17th from 10AM-4PM and again on Sunday, April 18th, from 10AM-3PM. It will be held in the barn at 65 Lincoln Avenue, West Milford, NJ 07480. If you have any questions, please email us at wallischhomestead@gmail.com.

Members of the Friends will have special access on Friday, at 5PM and Saturday at 9AM. YOU MUST HAVE A MEMBERSHIP CARD WITH YOU TO ENTER. A limited number of memberships will be available at the door on the day of the sale.
Please email wallischmembership@gmail.com if you wish to become a member. Individual memberships are $15 and family memberships are $25.
All profits go toward repairs of the Homestead buildings and property for community use.