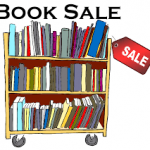 Friends of the West Milford Township Library are happy to announce the return of the Book Sale. Four days of browsing. Sale starts Thursday, September 19. This is for members only from 2PM to 6PM. Sale opens to the public on Friday, September 20th from 11AM to 6PM, Saturday, September 21st from 10AM to 6PM and again, Sunday, September 22nd, from 11AM to 2PM.
Girl Scout Troop #94899 and The Lions Club of West Milford will be on hand to offer refreshments on Saturday.
So come support our township library and Friends of Wallisch Homestead. If you have any questions, please see friendswmtl.org or their FB page @Friends of West Milford Township Library.