FOWH is excited to announce yoga at the homestead!  Every Wednesday throughout the summer (except rainy days) from 7-8 PM. No advance registration needed. Please join us for yoga with Kat Hess. Classes are $10 and the proceeds will benefit restoration projects at Wallisch Homestead.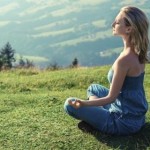 Kat is a graduate of Ramapo College's Yoga Teacher Certification Program.  She is a registered yoga teacher with the Yoga Alliance.  She is trained in the Krishnamacharya tradition, which focuses on the linking of breath with movement and adaptation for all practitioners to heal emotionally and physically.
If you have never tried yoga before, please come and join us.  Studies have found that yoga outperformed aerobic exercise at improving balance, flexibility, and strength. It can decrease pain levels and menopausal symptoms and increase energy levels. It also perfects posture, increases blood flow and synovial fluid production to protect joints and cartilage.  It gives your immune system a boost.  Clearly, yoga does more than calm you down.  Speaking of the calming effects of yoga, it can reduce feelings of anxiety and stress, improve moods and concentration, and benefits those suffering from depression and PTSD as well.
  So bring your mats and join us every Wednesday through the summer.