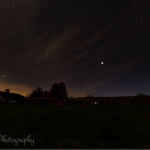 Friends of Wallisch Homestead are partnering with the North Jersey Astronomical Group (NJAG) again for an evening of stargazing on May 12th at 8:30PM (Rain date would occur on May 20th at 8:30PM).  This will be the third season NJAG returns to the Homestead.  Viewing conditions at this site are quite good for New Jersey as there is little light pollution and the view across the valley to Bearfort Mountain is unobstructed by trees.  The evening will finish around 10:30PM.
NJAG members will be setting up their own telescopes for viewing by the general public.  Sunset is 8:06PM.  The first object that will come into view will be Venus and then as twilight deepens (about 1/2 – 1 hour later), Jupiter.
After the sky gets completely dark, the Beehive Cluster M44 in Cancer, Galaxies M81 and M82 in Ursa Major (Big Dipper) will be visible.  Other deep sky objects will include the great globular cluster M13 in Hercules and Clusters M3 and M92.  All are welcome and educators are encouraged to attend.
The NJAG is an astronomy club of more than 50 stargazers interested in all aspects of the night sky.  since 1981, the NJAG has sponsored many activities for the public in Northern New Jersey, including weekly "telescope nights" and a monthly lecture series in the spring and fall, plus special events.  Ten of thousands of people have discovered the wonders of the universe through their telescopes!  For information on joining their club, please visit:  http://njastro.org/agx/.