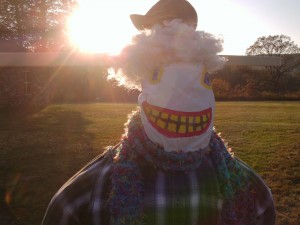 LONELY SCARECROW SEEKS SOULMATES
LIKES SCARING BIRDS, AMUSING CHILDREN, AND HANGING OUT
FOLK ART SCARECROWS AND GHOST STORIES AT WALLISCH – OCT. 29th
THE FRIENDS OF WALLISCH are at it again with spectacular plans to celebrate Halloween at the Farm with home made folk art scarecrows and ghost stories told around a campfire. This is the 3rd year of this unusual Halloween inspired event, and the Friends have saved the best scarecrows from the previous years to be displayed again, along with many new ones to be made by kids, local artists, and Halloween enthusiasts. The scarecrows remain on display until Thanksgiving week.
       The scarecrow making will be from 11:00 am – 4:00 pm. Excellent prizes will be awarded for Funniest, Most Classic, and Scariest scarecrows, as well as a Best In Show award. Please bring your already made scarecrow and we install it for you.  Your donations of old clothing and accessories is welcome.  If you cannot make your own scarecrow beforehand, we will have everything you need there to make one with us.  For the evening portion of the event, it is requested to bring camp chairs, flashlights and bug repellent. Dolli Grace will attend and will sing the Scarecrow song, If I Only Had A Brain at some appropriate time TBD! All who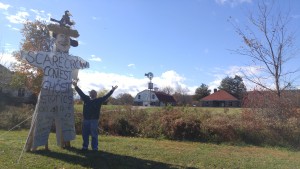 wish to tell a ghost story, need information on scarecrow making, or volunteer for this event should contact Jeff Weinman, evenings and weekends, at 973-506-7661. More details are available at wallischhomestead.org . Raindate is Sunday, October 30, 2016.