Friends of Wallisch Homestead Present:
THE AMERICANA JUBILEE
A musical event to be  held on
Date: Sunday 9/27/15 (rain or shine)
Location: The Lodge at Ocawasin
625 Macopin Road
West Milford, NJ
(Turn onto Ocawasin Way)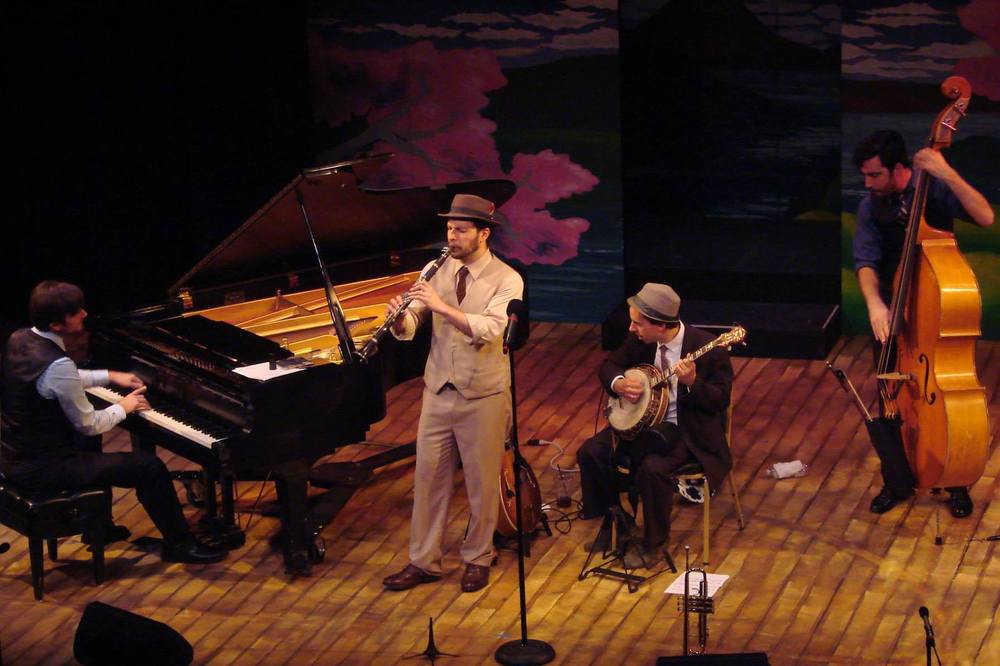 Come on out for a day and evening of historic American Roots Music and BBQ!
It's our ANNUAL Fundraiser for the historic restoration of the Wallisch Farm!
EVENING EVENT
Dinner ,Concert , and Dance: 4:30-9:00 p.m.
Headliner
One of New York's finest "Hot Jazz
Bands" featuring rising star vocalist
MARTINA DASILVA !
There will also be some great local bands
including:
Ray Longchamp
John Sheehan
Bob Bell
Jeff Gaynor
Barry Adelson
Deborah Fisher Trio
Growing Old Disgracefully Bluegrass Band
Brothers Bringing It Back: Alex and Patrick Kerssen and friends.
Deputy Dawg and Lucy Rae with the Friends of Wallisch Professors
Exhibits ,Workshops, Performances:  Noon – 4:00  p.m.
Daytime event includes: Roots Music Workshops for  guitar, banjo, mandolin, clarinet, sax, piano , trumpet, and vocals. Our Wallisch Homestead  "Professors "will  teach technique, and history. All  participants will get some  ensemble  performance time.
Exhibits : Films and rare recordings! Edison Wax Cylinder s ,Victrola and 78s. Vitaphone films of  Vaudeville acts!
Performances at the  Amphitheatre  Stage  with top local  musicians playing ragtime,  boogie woogie, blues, country ,bluegrass, rockabilly,  and Dixieland. Jazz.
Lunch Menu: burgers, dogs, pulled pork BBQ sandwiches, drinks
Dinner menu: Low and Slow BBQ  Ribs, Chicken with Sides!
Ocawasin Lodge is catering this event with their famous wood fire slow cooked BBQ ribs and chicken, and pulled pork, with fresh corn and sides. for $15 a plate.  A percentage of those sales will be donated to The Friends of Wallisch Homestead.
more info and workshop registration instructions below.
TICKETS:
Daytime (Noon- 4:00pm): $10 adult, $5 kids under 16 ,Family $20
Evening (4:30- 9:00pm): $20 Adult, $10 Kids under 16 , family $35
JUBILEE SPECIAL (day and evening): $25 Adult, $15 kids, $40 Family
NOTE: Current pricing is Early Bird pricing. This Advance Sale  pricing will end as of the end of day on September 22nd.  Pricing will rise by $5 per ticket as of September 23rd, The higher pricing will carry forward until the day of the event with all Door Sales also at the higher pricing.. Please purchase your tickets now to take advantage of this lower  pricing for a limited time.
PLEASE EMAIL US TO REGISTER FOR MUSIC WORKSHOPS!
INCLUDE YOUR NAME, INSTRUMENT YOU PLAY, AND WHICH OF THE WORKSHOPS YOU ARE INTERESTED IN PARTICIPATING
AMERICANA JUBILEE WORKSHOPS
SPACE IS LIMITED SO SIGN UP EARLY!
WORKSHOPS ARE SOCIAL AND INFORMAL, AND WILL BE APPROPRIATE  FOR ALL AGES AND SKILL LEVELS!
There will be four different locations for workshops . Pianos are provided at the site.  Please bring your instruments for the Workshops. Vocalists are most welcome at all of the Workshops.
Meet The "Professors": You will get to meet all of our Professors and hear them play a preview of tunes that will be included in the Workshops.
Main Lodge Stage 12- 1pm.
The Old Time Guitar, 5 String Banjo, and Mandolin  Workshop: Old Timey Flat Picking, Acoustic Blues, and Bluegrass guitar: Flat picking and finger picking styles will be demonstrated- get tips to play American roots  guitar with authentic technique and musical clarity. Claw hammer and Scruggs style banjo picking, and bluegrass mandolin basic also offered by our expert teachers. Professors: John Sheehan, Bob Bell, Larry Mandon, Brad Sicotta and Eric Hendrickson 1-3 pm
The Bluegrass and Old Timey String Band Ensemble Workshop: For all fiddlers, guitarists banjo, stand up basses, mandolins and 5 string banjo players. Meet all the  players and perform in the main lodge . Professors: Dennis Lichtman, Larry Mandon, Bob Bell , 3-4pm
Ragtime, and  Jazz  Guitar and Banjo Workshop:   Ragtime and Jazz Standards played and discussion of the role of guitars and banjos in the development of Jazz.  Singing of  jazz standards will be encouraged, so vocalists and sing -a-long participants are needed for this workshop as well ! There will be opportunity for soloists as well as ensemble play. Professors: Jeff Gaynor, Chuck Hayden, 1-2pm
Barrelhouse Piano- Blues, Boogie, Rags, and Stride Piano Workshop: Learn about basics of playing Ragtime, Blues, Traditional Jazz, and Swing.  This is for players who want to learn more about playing  rhythmically. Learn to swing and syncopate  with coordination of both hands. Exercises and pointers to whip that  left hand into shape! See you on the porch!  Professors: Jeff Weinman and Jesse Gelber 1-2pm
The Dixieland Parade Band Workshop: This is for our Brass and Woodwind players and for Marching Band Percussionists. We will discuss the development of parade bands over the last century in New Orleans and its effect on Marching Band music worldwide. from Sousa to The Rebirth Brass Band and the phenomena of  rhythm and blues and funk brass bands. This is a great opportunity for  marching band and jazz players- bass and snare drummers,  clarinet, trumpet, trombone, sax,  tuba and Sousaphone players to demonstrate their skills and play traditional New Orleans Dixieland parade favorites with our Professors! Professors: Nick Russo, Dennis Lichtman, Jeff Gaynor, Lucy Weinman, Chuck Hayden, 2-4pm
Musical Novelty and Story Telling Song Workshop : Satire and humor and telling tall tales in American music!  Hear hilarious songs from the last hundred years, and learn about contemporary musical humorists.  There will be a yodeling contest and a  discussion topic:" Yodeling … Seriously…Why Yodeling?" Vocalists  and players are welcome to perform their favorite novelty or story telling song. Professor: Jeff Weinman 2-3pm
Singing Country, Jazz, and Blues: Finding your best voice without forcing the issue. We will discuss techniques to sing with clarity, control  and  how the meaning of lyrics are enhanced through  phrasing and vocal dynamics.  Demonstrations and performance with a highly skilled singer and voice coach. Professor: Martina DaSilva 2-4 PM
Swing Dancing Lessons: Learn swing dancing basics from a great professional dance  teacher. Get ready for the dinner dance and put on those dancing shoes! Our headline act  Mona's Hot Four is going to get everyone up on the floor! Learn some hot moves at this Workshop! Professor: Nissreen Almazouni   from 2-4pm